A massive THANK YOU to all of our FREDs
Thank you to the 26 Dads from our Foundation Stage who have taken part in our 4 week Fathers Reading Every Day (FRED) programme. In total, the FREDs have read over 700 books for over 5200 minutes! It has been delightful to hear of your successes. We are pleased that you and your child have learnt a lot and enjoyed being part of the experience.
Thank you to all of the FREDs who attended our 'FRED-Factor' party on Wednesday 30th November 2016. Below are some photographs taken from the event. Thank you to Paul Gobey (Leicester Libraries) for a fantastic Christmas story telling session. The Dads and children were then very imaginative in their attempts at making their favourite character from one of the books they have read during the FRED programme. Well done to everyone who participated.
We hope our FREDs continue to read every day with their children. Please remember that you can continue to borrow and change books as often as you like at school.
Well done again to everyone who participated in FRED. We hope you liked your prize book, but equally we feel you've had the best prize already by reading to your child every day and seeing the impact that you have made.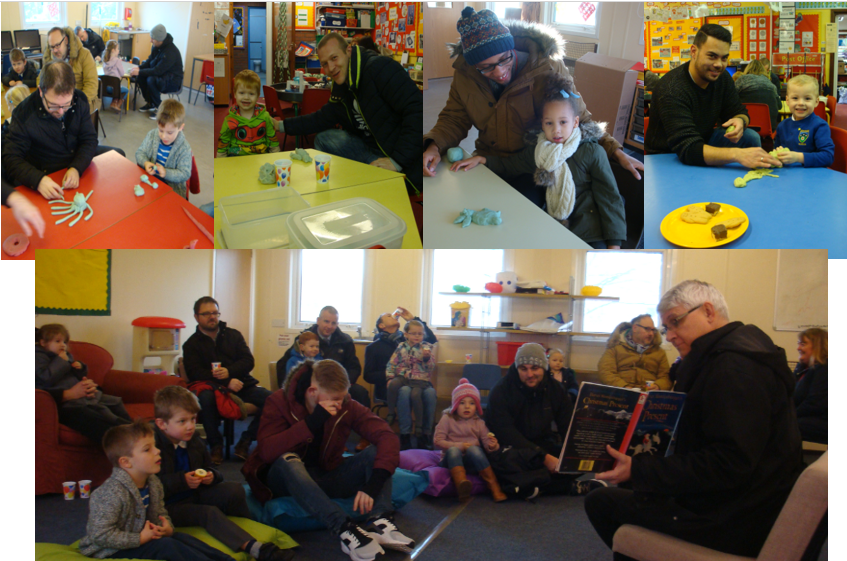 What is FRED?
The FRED programme involves Dads reading with their child for 5 minutes a day for two weeks and then 10 minutes a day for a second two weeks. Each dad documents the amount of time spent reading to their child and the number of books read.
Thank you to all of the Dads in the Foundation Stage that are taking part in our new exciting programme called FRED, Fathers Reading Every Day.
"This simple intervention has been shown to improve children's reading accuracy, their comprehension and rate of reading, their writing and also their behaviour. It can also improve attainment in maths – and, of course, it is a great way to establish wider engagement with fathers. Although FRED is a four-week programme, it helps instil better reading habits and improved relations between fathers and children that last far longer" (The Guardian, June 2013).
For more information
Please click on "FI Research Summary Fathers 'Impact on Young Children's Language and Literacy" for information on the impact of FRED.
You can also visit http://www.fatherhoodinstitute.org/ and http://fathersstoryweek.org/
If you haven't already registered for FRED or you would like some more information, then please speak to a member of the Foundation Stage or email us at fred@montrose.leicester.sch.uk
Check out 4 videos of celebrities reading their favourite stories:
FRED 2016
Thank you to all of the FREDs that attended our launch party on Wednesday 26th October 2016. Many thanks to Paul Gobey from Leicester Libraries who told a fantastic story - a good time was had by all (and many doughnuts eaten!).
| | | | |
| --- | --- | --- | --- |
| TV actor Charlie Condou reads 'Cats Ahoy' by Peter Bently. | Children's author Peter Bently reads his own book, 'Dustbin Dad'. | Poet and playwright Nick Makoha reads 'Daddy Is My Hero' by Dawn Richards. | TV presenter Tim Lovejoy reads 'Charlie Cook's Favourite Book' by Julia Donaldson. |
Books that Dads have Enjoyed